Brainstorm and Present with MindView
Improve your meetings by utilizing the Mind Mapping technique. Use Mind Maps to easily capture ideas and concepts, attach unlimited number of documents, link to SharePoint, Google Drive, Dropbox etc.
Go beyond PowerPoint presentations by illustrating concepts and strategies using mind maps. Mind Maps make ideas easier to understand and overview for both clients and colleagues.
You can add pictures, videos, take notes or add links to SharePoint, OneDrive and Google Drive to your Mind Map and everything will be included in your export.
Export to Word and use our professional, customizable, and ready-to-use templates to produce fully formatted Word documents. Documents exported from MindView are complete with table of contents, page numbers, headers, footers and more. Include citations and a bibliography in the desired academic format when writing an Essay. The quality speaks for itself.
Alternatively, you can turn your mind map into a beautiful presentation directly from MindView by exporting to PowerPoint using customizable templates. With just a mouse click!
Using Mind Mapping for Project Management
According to a study from the MindMappingSoftwareBlog.com, 75% of mind mapping users are using mind maps for project management at all levels. Whether you are looking to create a simple "to do list", a project timeline, a Work Breakdown Structure, or a Gantt Chart, MindView has got you covered.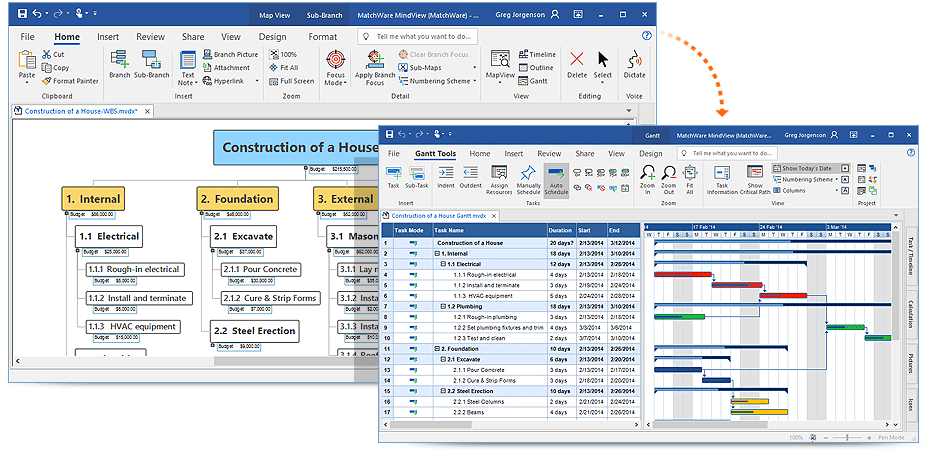 Click here for more info
30-day free trial